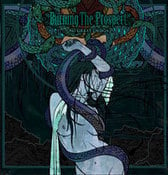 £

5.00 - On Sale
Released on FETO records (www.feto-records.com) 13th October 2008.
Since their formation in 2004, Burning The Prospect have been delivering their own brand of brutality to willing audiences, both up and down the country, and further afield. Drawing on inspiration from bands such as His Hero Is Gone and Disfear, Burning The Prospect evoke echoes of punk, Swedish hardcore, and d-beat scenes, among others. Unique in their sound, they are comfortably straddling genres and bringing a new twist to hardcore punk. This young, Boston (UK) based band already have an extensive amount of shows under their belt, including a tour of Italy in early 2008. No Great Design is their first full length album; an abrasive voyage through tales of failure which question the state of today's society.
Track listing:
1. Two Lives, Two Worlds
2. No Escape
3. Orwell Nation
4. Force Fed
5. New Reign
6. No Great Design
7. We, The Accursed
8. Spiders & Snakes
9. Fires In Your Cities
10. Cross On The Door
11. Never Forget (Bonus Track)
12. Artificial Dissemination (Bonus Track)
13. The Ballad Of A Fucked Off Congregation (Bonus Track)
14. Progression (Bonus Track)
15. Justified Progression (Bonus Track)
16. Burning The Prospect (Bonus Track)
Reviews:
Kerrang! - KKKK
"The glorious sounds of being kicked repeatedly in the face. Now this is the kind of soundtrack perfectly suited to mosh pit armageddon. Harnessing a downright threatening tone to frenzied crust-punk destruction, Boston's (Lincolnshire, not Massachusetts) Burning The Prospect barrel along like a car on fire and in danger of losing all of its wheels at any moment, only just kept on course by force of will alone. Though many of the songs fall around the one-hundred-second mark, the band cram as much violence into their brief existences as possible, and the longer tracks impressively focus on conjuring a claustrophobic, imposing atmosphere. And with everything wrapped up in raw production, this is a fucking winner."
Masterful Magazine (http://masterful-magazine.com) - 8/10
"Since their inception in 2004 UK's Burning the Prospect play a furious blend of old school punk, crust and Swedish d-beat and hardcore. Debuting on the label headed up by Napalm Death's Shane Embury and Anaal Nathrakh's Mick Kenney, Burning the Prospect take no prisoners with their debut "No Great Design". Unlike the happy-go-lucky lyrics of many of its contemporaries Burning the Prospect focus mainly on socio-political issues and left wing politics. Heavily influenced by the likes of Disrupt and especially Disfear "No Great Design" is delivered fast and loose with a three-way vocal interaction between Dan Sansam and guitarist duo Jimmy Hawkes and Luke Sims the album is an intense affair that never lets up. Drummer Matthew Gibbard provides Burning the Prospect with its instantly recognizable d-beat and while he isn't the most versatile player he compensates it in sheer intensity. Most of the material here short, compact and to-the-point while being played at breakneck speed with shouted, screamed and barked vocals. A lot of the material on this record reminds of Napalm Death's earlier hardcore punk oriented offerings, in particular "Scum" and "From Enslavement to Obliteration". "No Great Design" was mixed and mastered by Mick Kenney (Anaal Nathrakth, Mistress) and as a result the record retains enough of its raw hardcore punk edge while sounding modern in its texture, depth and definition. It's good to see hardcore punk and crust making a revival after its watered down, commercialized counterpart dominated the airwaves in the last decade."